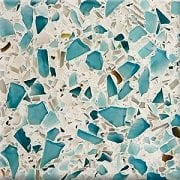 Accent Surfaces offers several different options for customers looking for eco-friendly countertops. Our recycled glass countertop brands include IceStone, Vetrazzo, and ECO. All are composed of 100% recycled glass combined with cement, pigment, and/or resin.
Unlike granite and other natural stones, this type of surface is not quarried. The recycled glass content is primarily made up of post-industrial and post-consumer glass, mirrors, ceramics, and porcelain.
Some of the benefits of recycled glass surfaces include: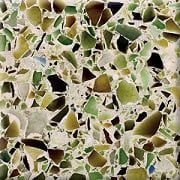 Mold and mildew resistance
Scratch resistance
Stain resistance
Heat and burn resistance
Low-maintenance
Durability
Sustainability
Each brand offers a comprehensive selection of colors, allowing for a large variety of design options. To view color options, click here.