The holidays are over, and there's a nice, long stretch before the busy warm months arrive. There's no better time than now to transform your kitchen with some of the smartest design trends for 2018.
Quartz countertops are rising to the top as the material to have. Warm woods are still popular, and storage is becoming smarter. There's so much to choose from now, the hardest part might be narrowing everything down to a single plan. Here are five of the top design trends you'll want to think about for your kitchen renovation.
#1: Integrated Appliances
Appliances have always stood out, whether they were stainless, classic white, the trendy black of the 90s or the now-amusing harvest gold. Now, they can blend with the cabinetry. Integrated appliances are a growing trend for 2018. Cleverly designed front panels for refrigerators, dishwashers, microwave ovens and more have faces identical to the kitchen cabinets. It gives the room a seamless look, which is perfect in an open-plan home.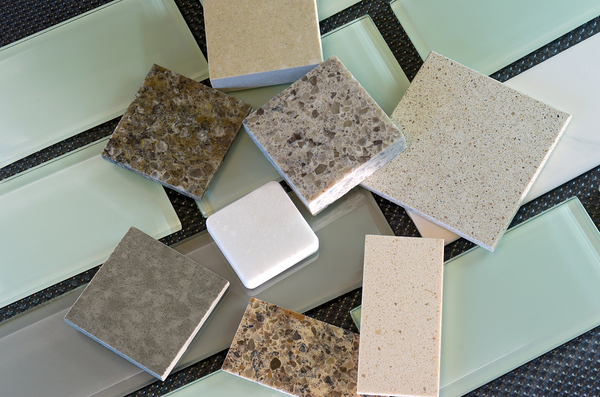 There's almost no limit to countertop possibilities.
#2: Interesting Countertop Materials
When granite countertops overturned laminates as a preferred material, homeowners around the country started thinking more creatively. In the coming year, expect to see smart, durable quartz countertops take the lead and many other materials make an appearance.
Quartz: synthetic stone material made with stone chips and resins. It's more resilient than granite, resists damage and stains, and requires less maintenance. Better Homes and Gardens says this is a trend to watch.
Natural wood: just as durable as laminate, and it's repairable if there's damage.
Glass: shiny, easy to clean, durable and versatile. Glass comes in virtually any color and it's non-porous, so it won't stain. HGTV calls it "one of the most hygienic" materials available.
Recycled Glass: one of the most beautiful, durable and eco-friendly countertop materials. It looks very much like a vintage terrazzo floor. Recycled glass contains bits of colored glass in a base of concrete or resin that's ground and polished smooth. The color combination possibilities are almost endless.
Soapstone: stain- and bacteria-resistant. Natural soapstone may be solid deep gray or have a marbled appearance. Care is so easy, it only takes occasional mineral oil, according to HGTV.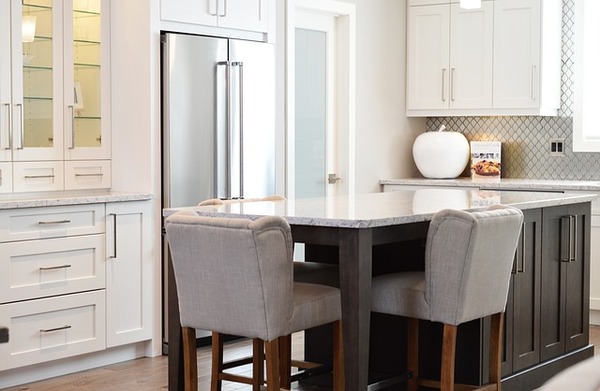 Contrasting cabinet finishes give the room a homey, established look.
#3: Two-Toned Cabinet Finishes
Two-toned cabinets in 2018 are warm, substantial and give the space personality. You might spot a sleek black kitchen with one upper cabinet in vivid red, or something more traditional with natural wood finish cabinets and a black or white center island. Two-toned cabinets make the room feel more established like it's been there and slowly evolved over generations. Designer Jon de la Cruz tells House Beautiful that "you see that kind of make-do cobbling together" in an older kitchen.
#4: Shades of Purple and Plum
The Pantone Color of the is Ultra Violet 18-3838. Expect to see it and other shades of purple and plum everywhere, including kitchens. Because Ultra Violet is vivid, you might not spot it on kitchen cabinets. But this trend is likely to pop up in small kitchen appliances, accessories and art. Deeper plums, says InteriorZine, are perfect for cabinets.
#5: Custom Cabinets Storage
Choices are everything in 2018, which is why custom design is so important. Look for cabinets built to fit your needs, not one-size-fits-all kitchens that never quite suit the room or your pots and pans. Here are some of the options with custom designs.
Extra deep drawers for pots and pans at easy-access counter height
A wide range of drawer sizes from very small to oversized
Narrow cabinets for storing cookie sheets and muffin pans
Base cabinets with gliding storage that pulls out for easier access
Lazy Susans with better design
Movable drawer dividers
Custom kitchen cabinets are a smart way to use your renovation budget. Instead of cabinets that merely get the job done, they're designed with your needs and the way that you live in mind.
If you have a kitchen renovation on the horizon, choose cabinets that solve your storage and lifestyle problems. That's what custom work does best. Call Accent Custom Countertops at 775.984.5500 for a design consultation today.