If you watch HGTV, you probably know that granite is one of the most widely coveted kitchen countertop materials on the market. But quartz is giving granite a run for its money—and for good reason.
While granite is famously tough and offers ample color and texture variation, quartz is tougher. It can be manufactured in virtually any color, too.
If you're in the market for new kitchen countertops, here's how granite and the upstart quartz compare.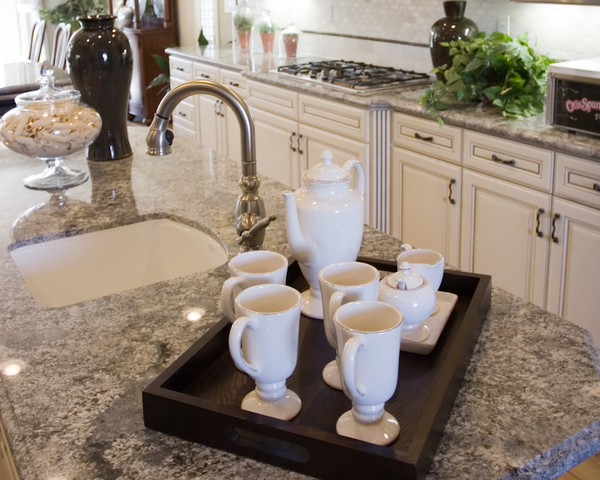 By now, the natural look of granite has settled into the mainstream as the expected high-end countertop material.
Granite is Natural; Quartz is Mainly Natural
Granite is a natural igneous rock mined from a quarry. It's got incredible personality and strength. This stone can contain bits of shimmering mica, feldspar, quartz and more. Granite forms in a wide range of colors and patterns, including white, brown, tan, gold, red, blue and many different combinations.
Although the quartz name implies that it's a solid natural material, quartz countertops are engineered. They're made from approximately 95 percent ground quartz in a resin base, says HGTV. It also contains pigments for color, which granite does not. Quartz countertops have the look of natural stone because they're made from it.
Granite is Durable; Quartz is Too
If you need beautiful countertops that are as tough as they are attractive, both granite and quartz will perform well.
According to HGTV, granite gives you heat resistance. It's resistant to impact and scratches, too. Quartz is harder than granite, so it's less likely to scuff and scratch. However, quartz is more susceptible to "thermal shock", meaning it can crack when it's exposed to heat, so a trivet should always be used under crock pots and pans fresh from the oven.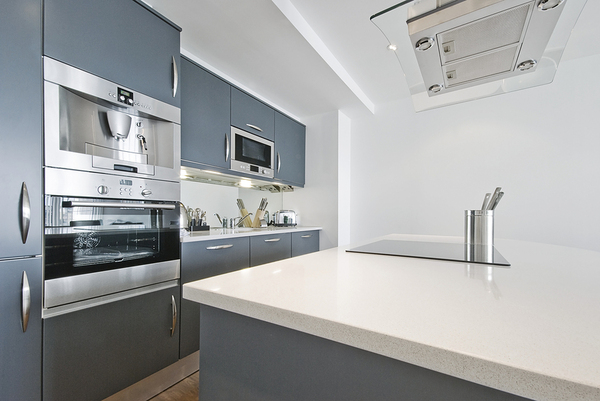 Quartz comes in classic white plus an almost unlimited range of colors, and it's tougher than granite.
Quartz Countertops are Easier to Care For Than Granite
Both granite and quartz are more resilient than laminates, wood or tile. A hot pan won't burn them. But quartz has a few pluses that granite can't offer, even when granite is regularly maintained.
Granite is porous; quartz is not. That means granite requires regular sealing—and a quick response if something spills—or it becomes susceptible to staining. Quartz is inherently stain-resistant; it never needs a sealer. Natural granite also has pits and fissures, which is a normal part of the stone; homeowners who choose granite countertops should be comfortable living with those imperfections. The Spruce says, "quartz has flaws engineered out."
Both Materials Can Incur Damage; Both Can be Repaired
While quartz is much harder than granite, it's not impervious to damage. Under normal use, it should last. But if it experiences a severe impact, it could break. Granite is prone to chips, especially along the edges. Regardless of which material you choose, damage is repairable.
Both materials may lose some surface shine over time. And chips or cracks can mar the edges of the countertop. But granite and quartz can be resurfaced to restore the original sheen. Chip and crack repair tend to be virtually invisible.
Granite Countertops Have Limited Colors; Quartz is Nearly Limitless
Because granite is 100 percent natural, there's no way to control its appearance. What's quarried is what you've got. That's not necessarily a bad thing since nature creates incredible colors and patterns on its own.
Quartz doesn't tend to have the visual variations found in granite. Most examples have a more solid-color appearance that's filled with natural shimmer from the quartz content. However, quartz is customizable because it's engineered. If you want red, blue or green, chances are you can find it.
Granite has held the hearts of homeowners for many years, and it's no wonder. Natural granite has character that's hard to match in any other countertop material. But quartz countertops are growing in popularity. With so many color choices and its hard-as-steel nature, this engineered stone is beautiful and easy to live with.
If you're ready to transform your kitchen into a dream room, we're here to help. Call Accent Custom Countertops at 775.984.5500 for a design consultation today.