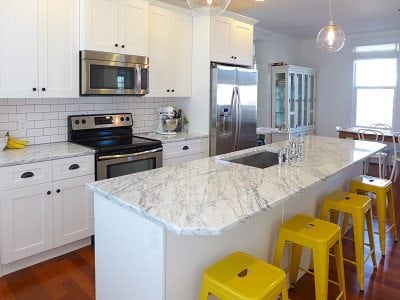 The colors you choose for your kitchen really set the mood of the room. It's important to think about how all the elements – countertops, cabinets, appliances, floor, backsplash, and wall color – will all work together.
Beware of bold colors as they can become quickly outdated. If you want to incorporate a bold color, use it only as an accent color. A good strategy would be to avoid using bold colors on the expensive items like countertops, cabinets, and flooring and instead use them on an accent wall or accessories like stools, rugs, and small appliances that can be easily and inexpensively changed. Remember, you want to create a "no regrets" color scheme for your kitchen.
Analogous colors often work well together, meaning colors that are next to each other on the color wheel. If the kitchen is large, use brighter, warmer colors to visually bring the walls in. If the room is smaller, use cool colors to push the walls out.
Start by selecting one element and begin creating your color palette from there. For example, choose a countertop you like and then search for coordinating flooring and backsplash. It's best to start with the least flexible element of your kitchen and then match all other elements to it.
It's always a good idea to bring some samples home and see how they look under different lighting and during different times of the day. Ultimately though, you want to choose colors that will make you happy.
Click here to browse through our photo gallery for ideas and inspiration.